About the Artist & Contact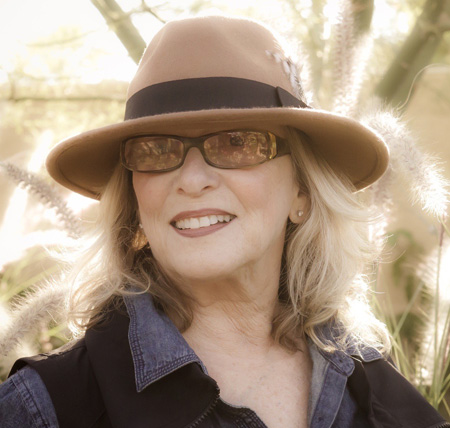 Throughout her life Andrea Raft has found herself drawn to art and the expressiveness it offers. She first studied painting at the Brentwood Art Center in Los Angeles. Where under it's auspices she traveled to Giglio, Italy, to study and paint. It was in Giglio that Andrea developed her interest in layered colors and texture. The walls, doors, and streets of the 11th century old walled city inspired her to paint in overlapping layers, revealing a certain patina and history. Subsequently, Raft spent six years in the Bahamas, where she was tutored by her proximity of the sea and by the unhurried pace of life around her, more recently in the countryside of California's central coast, and now residing in the Coachella Valley.
Each shift from ancient to modern, from urban to rural, from land to sea and desert, from east to west as well as her travels to Asia have enriched Andrea's artistic perceptions, enabling her to study, paint and show her work professionally in a host of disparate environments.
Andrea is currently a member of the National Association of Women Artists, Women Painters West, Collage Artists of America, and Artist Council of Palm Springs Art Museum.
………………….
AndreaRaftStudio@gmail.com
(706) 610-5178
Resume
SELECTED SOLO OR FEATURED EXHIBITIONS
2016
Creative Expressions, Creative Arts Center, Burbank, CA
2015
Featured Artist, February, CODA Gallery, Palm Desert, CA
2014
Featured Artist, May, CODA Gallery, Palm Desert, CA
2009
Natural World, 5 Women Group Show, Brand Library Gallery, Glendale,CA
Enos Winery, Paso Robles, CA
2008
FINS, Westlake Village, CA
2006
Fortini Home and Garden, San Luis Obispo, CA
The Natural World, North Tahoe Art Center, Lake Tahoe, CA
2005
Asian Style, Excellent Experiences Gallery at the Morgan Stanley Building, San Luis Obispo, CA
2004
Asian Style, McConnell Gallery, San Luis Obispo, CA.
2002
The Calming Effect, Big Sky Café, San Luis Obispo, CA
SELECTED JURIED EXHIBITIONS
2016
Altered State of Collage, Collage Artists of America Juried Show
San Fernando Valley Art and Cultural Center, San Fernando, CA
Palm Springs Artists Council Juried Show, Palm Springs Art Museum, Palm Springs CA
2015
Living Spirituality, VISIONS/G2 Gallery, Venice, CA
2013
Wax Pixels and Paint, Artists 111 Group Show, Ventura County Government Building, Ventura, CA
Wax Pixels and Paint, Artists 111 Group Show, CODA Gallery, Palm Desert, CA
Howard's Back Door Gallery, Artists 111 Group Show, Rancho Mirage, CA
Palm Springs Artists Council Juried Show, Palm Springs Art Museum, Palm Springs CA
2011
Places of the Heart, Slutzky Gallery, Merage JCC of Orange County, Irvine CA
ACE Juried Exhibit, Palm Springs Art Museum, Palm Springs, CA
The Happening Gallery, Marina Del Rey, CA
13th Annual Juried Art Show, City of Palm Springs Public Arts Commission
Beg Borrow or Steal, Honorable Mention, Palm Springs, CA
2010
Palm Springs Artists Council Juried Show, Palm Springs Art Museum, Palm Springs CA
2009
Sacred Art/All Things Spiritual, Galleria Gitana, San Fernando, CA
Experimental Artists Show, Viva Gallery LA, Sherman Oaks, CA
Juxtaposed, Creative Arts Center, Burbank, CA
International Society of Acrylic Painters – Juried Show, Santa Cruz, CA
"Frida Kahlo" Show, Picture This Gallery, Long Beach, CA
Award of Excellence, 2nd Year, California State Fair
Artistic Journeys, Finegood Gallery, Milken Center, West Hills, CA
Natural Worlds, Brand Library Gallery, Glendale, CA
2008
Proud Flesh, Allen Hancock College Art Gallery, Santa Maria, CA
Proud Flesh, Cuesta College Art Gallery, San Luis Obispo, CA
Emerging Artists, DAC Gallery, Los Angeles, CA
National Association Women Artists, GoggleWorks, Reading, PA
Sylvia White Gallery, Ventura, CA
Award of Excellence, California State Fair Fine Art Competition, Sacramento, CA
Viva Gallery, Experimental Artists Guild, Sherman Oaks, CA
Small Works Show, Women Painters West, Orlando Gallery, Tarzana, CA
Women Painters West, ArtCore Brewery Annex, Los Angeles, CA
Collage Artists of America, Burbank Creative Arts Center, Burbank, CA
2007
Holiday Lites, Lauryn Taylor Fine Arts, Carmel CA
Frida Kahlo 100th Birthday Art Show, Picture This Gallery, Long Beach, CA
American Women Artists National Competition, Lekae Gallery, Scottsdale, Arizona
Personal Landscapes, N.A.W.A., Longview Museum, Longview, TX
N.A.W.A 118th Annual Exhibition, Monroe Center for the Arts Hoboken, NJ
International Society of Acrylic Painters, San Luis Obispo Art Museum, San Luis Obispo, CA
Women as Witness, Women Painters West, Art House Gallery, Santa Monica, CA
Indomitable Spirits: Giving Face/Voice To Courage, Peter Stynberg Gallery, San Luis Obispo, CA
Group Show, Allan Hancock College, Santa Maria, CA
2006
Strata-Various, Lauryn Taylor Fine Arts, Carmel, CA
N.A.W.A 117th Annual Juried Show, GoggleWorks Center for the Arts, Reading, PA
2005
Elliott Fouts Gallery, Sacramento CA
2003
Brushstrokes, San Luis Obispo Art Museum, San Luis Obispo, CA
2001
Curators Choice, San Luis Obispo Art Museum, San Luis Obispo, CA
1998
Art Noel, Bahamas National Trust Art Show, Rand Nature Center, Freeport, The Bahamas
1996
Hear Me Roar, Bahamas All Women Show, Central Bank of The Bahamas, Nassau, New Providence
1989
Affaire in the Garden, Beverly Hills Art Festival, Beverly Hills, CA
AWARDS
Palm Springs Public Arts Commission Honorable Mention, Palm Springs, CA
2009: Mixed Media Division Award of Excellence, Aaron Sedway/Andrea Raft, California State Fair
2008: Mixed Media Division Award of Excellence, Aaron Sedway/Andrea Raft, California State Fair
Honorable Mention, Image-ination Award, Collage Artists Juried Show
2008: Burbank Creative Arts Center, Burbank, CA
Blessing Semler Award given for Creativity, Women Painters West Juried Show
2007: Art House Gallery, Santa Monica, CA
2003: 1st Prize Award, Mixed Media Division, Brushstrokes, San Luis Obispo Art Center
EDUCATION
Cuesta College Fine Arts Program, San Luis Obispo, CA
Allan Hancock College, Fine Arts Program, Santa Maria, CA
Brentwood Art Center, School of Fine Art, Brentwood, CA
B.A. Degree, 1975, University of California at Northridge, CA
ORGANIZATIONS
Jewish Artists Initiative of Southern California
Palm Springs Art Museum, Artists Council
Women Artists West, Juried Active Member
National Association of Women Artists (N.A.W.A.), Juried Active Member
GALLERY REPRESENTATION
CODA Gallery, Palm Desert, CA
Spirit Gallery, Truckee, CA